DENSO (AUSTRALIA) PTY LTD
A member of Winn & Coales International
Our Story
Denso (Australia) Pty Ltd, a subsidiary of Winn & Coales international, specialize in the manufacture and supply of corrosion and chemical resistant coatings and linings for the long-term protection of steel, concrete and timber surfaces in the toughest corrosive environments.
Quality and Innovation
The company is at the forefront of innovative corrosion prevention technology, focused upon developing an extensive range of custom solutions to meet the specific needs of different industries.
Our full range of products are manufactured to comply with the strict quality standards. The products are designed for longevity, with corrosion prevention solutions that can offer up to 30+ years of maintenance free service.
Trusted Brands
Having grown from a small business founded in the City of London in 1883, Winn & Coales International Ltd has vast experience in solving corrosion and sealing problems, as well as an international reputation for supplying long lasting and reliable products.
Its trusted Denso™, Premier™, Protal™, Steelcoat™, SeaShield™, Archco™, Sylglas™ and Premier Shrink Sleeve™ systems are supplied to the petrochemical, process, offshore, water, gas, telecoms, renewables, civil engineering and DIY industries internationally.
International Service
Subsidiary companies, located in the UK, USA, Canada, New Zealand and South Africa, together with a network of agents, ensure that superior corrosion prevention products are available globally.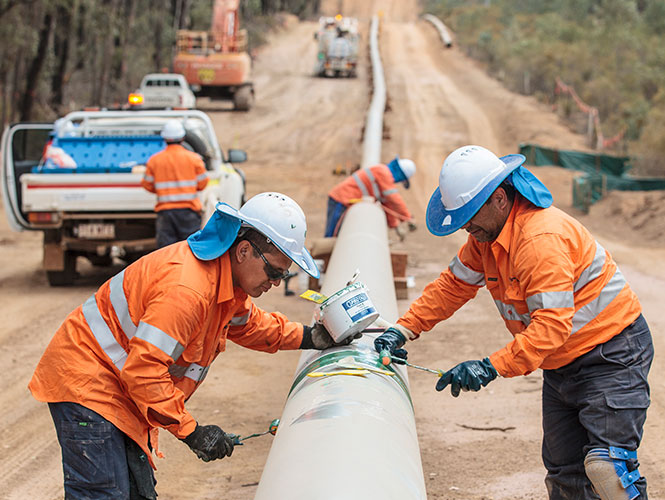 1883 – 1910
In 1883 Paul Winn sets up the import/export house Paul Winn & Co. Ltd in London, which would later become Winn & Coales (Denso) Ltd.
The company started by exporting coke to Germany, and later expanded into importing starches and sugars. By 1900, the company was established at the heart of the commodities sector in Mark Lane and had expanded into trading items such as waxes and petroleum jelly.
1910 – 1920
Paul Winn's son Eric Winn joins the company in 1910 and it diversifies to additionally trade in wall tiles and other building commodities.
In 1916 Frank B. Coales joins the company, with his section becoming known as Department 'C'. Around this time the company also acquires an agency for miners' lamps.
1920 – 1930
Paul Winn & Co. Ltd remains a private company. Alongside this The Barking Brassware Company, which manufactures pipes for plumbing and bathroom fittings, and P. Winn (Barking) Ltd, which makes Abbey Tiles, become public companies. This collective group of companies are the origin of Winn Industries Ltd.
In 1929, Winn & Coales secured a license from Germany to import and market Denso corrosion prevention products into the United Kingdom. The products proved to be hugely successful with the gas and water industries where it was used for the protection of pipes and fittings.
1930 – 1940
In 1933 Paul Winn appoints Frank Coales as his partner, forming Winn & Coales Ltd. The manufacture of Denso Tape (under license to Germany) begins in factory premises in Stepney. The new company takes over all of the activities of Department 'C', forming the origin of today's company – Winn & Coales (Denso) Ltd.
In 1938, Beckenham-based Beney Lighters is acquired, adding utility lighters and precision tools to the company's ever-growing list of products. The biggest selling line manufactured by Beney was the Economic Gas Lighter which was hung on the side of housewives' gas cookers and was also used for lighting Bunsen burners in laboratories.
1940 – 1950
With the onset of World War Two in 1939, large quantities of Denso tape were purchased for the purpose of gas proofing rooms and repairing bomb damaged gas mains, as well as waterproofing military vehicles.
Following a 'doodlebug' flying bomb attack the company's Head Office at Trinity Square, and many company records, were destroyed. Following this, the business moves its administration to the Beney Lighter premises in Beckenham.
Manufacturing demand begins to outstrip capacity, but the company is unable to expand to larger premises until after the war is over.
1950 – 1960
In 1950, the company moves to 'Denso House' in Chapel Road, West Norwood, under the chairmanship of Frank Coales who has taken over following the death of Paul Winn in 1946.
Customer demand continues to fuel the steady expansion of the Denso product range and products such as Coal Tar Tape are developed. A company research laboratory for product development is established.
In 1957, using knowledge and experience gained over the previous 25 years, a range of water and weatherproofing products aimed at the DIY market are launched under the Sylglas™ brand name.
1960 – 1970
In 1964, agents are appointed throughout the world to promote the expanding product range and partnerships are formed in Australia, New Zealand and South Africa. These partnerships provide the foundation of the present company's worldwide network.
In 1965, David Winn – grandson of the founder, Paul Winn – joins the company and two years later is appointed Deputy Chairman.
1970 – 1980
The 1970s saw the introduction of an important addition to the Denso product range – a heavy-duty adhesive, cold-applied bitumen laminate tape for the external protection of large diameter buried steel pipelines. Fire resistant systems were also developed for use in oil refineries, railway tunnels and on offshore platforms.
The company was also still expanding rapidly, with subsidiary companies formed in the USA and Canada.
In 1979, the company celebrated the 50th anniversary of taking on the agency for Denso Petrolatum Tape, whilst a new laboratory and conference building was also erected and opened.
1980 – 1990
Steady growth in the 1980s lead to new customers in the building industry and the formation of a new merchant division in 1981.
In 1983, the company celebrated its Centenary with a visit from Her Royal Highness Princess Alexandra, holding a special banquet dinner at the Guildhall in London.
In 1986, Dr Keith Erskine, grandson of Frank Coales, was appointed a non-executive Director and the company purchased Protal Coatings. Protal is a well-established range of liquid coatings which complements the Denso range of tapes perfectly.
In 1989, Frank Coales celebrated his 100th birthday and entered the Guinness Book of Records for still actively working as Chairman at the time. That same year, Archco – Sprayglass Ltd and Rigidon Resistant Materials Ltd were purchased – both established suppliers and applicators of resistant linings for industrial tanks. The two companies later merge to form Archco-Rigidon Ltd.
1990 – 2000
Chairman Frank Coales dies age 102 in 1991 after 75 years with the company and is replaced by David Winn. At this time, the company had been trading for 112 years under only two Chairmen.
Denso Australia launched Denso SeaShield for protecting jetty piles, while in the UK the company's road maintenance products start to return profits. The new Densoband asphalt jointing strip begins to be specified by local authorities.
Denso Void-Filler is developed to protect pre-stressed cables with over a million litres subsequently used on the Second Severn Bridge Crossing Project.
In 1995, David Winn became the proud recipient of an OBE from His Royal Highness the Prince of Wales at Buckingham Palace.
In 1997, Premier Coatings Ltd was acquired, increasing overseas market penetration with both corrosion prevention and waterproofing products.
2000 – 2010
The decade starts with the export of a full range of products to China for the first time.
Demand for the UK's new SeaShield 2000 FD system lead to numerous contracts around England, Wales and North America. Denso Steelcoat Systems were also regularly specified on offshore oil rigs, steel structures and pipework in process plants.
The Denso subsidiaries improve their market share, with record results in North America. Larger manufacturing facilities were built in the USA and new premises were acquired in Canada. A new Denso factory was also commissioned in South Africa.
In 2008, the company celebrated its 125th Anniversary with a second visit from Her Royal Highness Princess Alexandra.
2010 – 2020
In 2010 and then again in 2013 the company proudly achieved a Queen's Award for Enterprise: International Trade. Both awards were in recognition of the company's growth in international sales.
The company celebrated its 130th Anniversary in 2013 with subsidiaries convening in the UK for an International Conference. The decade also saw regional offices opened in Dubai and India, and other notable events during this decade include the achievement of Environmental Management ISO 14001:2004 as proof of the company's continuing commitment to environmental responsibility. In recent years, the company has achieved the latest ISO 14001:2015 standard, along with the ISO 9001:2015 for Quality Management too.
A long-standing desire to educate its customers in correct product application techniques was also achieved during this period with the building of a dedicated 'free of charge' training centre at the head office site in London. To underline its success, this facility has remained constantly in use ever since it was opened.
In 2019, the company celebrated 90 years of the manufacture and supply of corrosion prevention products.
2020 – Present Day
In September 2020, Group Chairman David Winn OBE dies after serving 55 years with the company. His son Christopher takes over as Group Chairman.
In 2021 Winn & Coales International Ltd acquires the US based company Viscotaq, adding the unique self-healing viscoelastic coating technology to its range of products.
2023 marks the 140th Anniversary of Winn & Coales International. From humble beginnings to international market leader, today Winn & Coales International Ltd. comprises seven subsidiary companies, multiple regional offices, and a network of global agents and distributors. The shared knowledge and experience across the group of companies ensures its extensive range of corrosion and chemical resistant coatings and linings are available almost anywhere in the world.
Winn & Coales International Group Chairman, Chris Winn says, "It is with great pride that we celebrate this remarkable milestone for the company. As we reflect on the last 140 years, we also look forward to the future with tremendous excitement as our continued programme of investment and growth brings new technologies to our customers."