CASE STUDY
Darwin River Dam Pump Station Upgrade
Buried Coatings
>
Darwin River Dam Pump Station Upgrade
Project Data
Location
Darwin River Dam, NT
Client
Power and Water
Products
Premier Heat Shrink Sleeve 30 ST™ and
Densopol 60™ Tape
Date
2018
Project Details
Due to the ever increasing population in Darwin, an upgrade to the Darwin River Dam was a necessity. An extension to the pumping capabilities was required, so a duplicate pipe was installed. 
The Pipe was a 1400mm diameter fusionkote MSCL. Power and Water approved Denso Premier Heat Shrink Sleeve 30ST™ which was selected for the protection of field joints. Denso Bitumen Mastic Strip and Densopol 60™ was used for the scour valves and spool work. 
These products were supplied by Rhino Industrial whom are a prime distributor in Darwin. Training in the application of both the Premier Heat Shrink Sleeves™ and the Densopol 60™ system was given to our new approved applicator, resulting in another successful application of a Denso (Australia) Pty Ltd product. 
Premier Heat Shrink Sleeve 30 ST™ and Densopol 60™ Tape applied to the Darwin River pump station pipe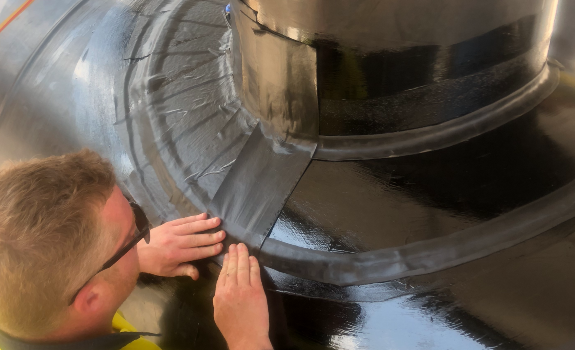 Premier Heat Shrink Sleeve 30 ST™ and Densopol 60™ Tape applied to the Darwin River pump station pipe
Premier Heat Shrink Sleeve 30 ST™ and Densopol 60™ Tape applied to the Darwin River pump station pipe